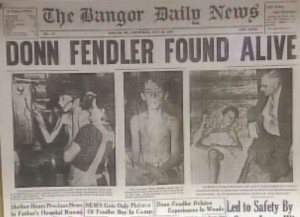 DONN FENDLER HAS A FRACTURED PELVIS AND WILL NOT BE ABLE TO FULFILL ANY MEETINGS. WE WILL RESCHEDULE IN THE SPRING. PLEASE PRAY FOR DONN'S RECOVERY.
Donn will be sharing his exciting experience from over 70 years ago of being lost below Mt. Katahdin when he was 12 years old. Donn has a great way of bringing the story to you.
Newport Church of God
257 Camp Benson Rd. (Rt. 7)
Newport Maine
October 24th
6pm
Books can be ordered in advance and will be made available to purchase for signing.
[ccf_form id="832″]
Please make payment here:
Views – 262