We are going to knock your socks off with this workshop.
We will be working on a basic socks pattern using DK weight yarn ( beginner) and a simple sock design using sport weight yarn (intermediate). You can choose the sock you want to make. The Simple Skyp Sock will be more difficult because the yarn and needles are smaller, there is a simple pattern and some techniques that may be more difficult for a beginner but you are welcome to try, everyone is different. The Comfy DK Socks are made with a larger weight yarn and bigger needles making the progress a little quicker and simpler. There is a ribbed pattern to the sock and they are very comfy. (Material list below)
There will be an hour of instruction and an hour of time to just knit. You are welcome to leave if you need to after the first hour. We will meet once a week for 4 weeks but I will be available at the office if you need some extra help.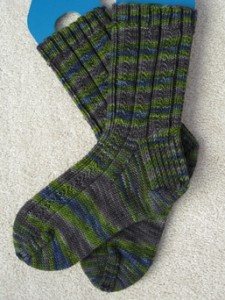 Each person will purchase their own supplies. We will have patterns here and some small accessories that may be needed, you purchase your yarn in the choice of fiber you desire and a set of circular needles, we will be making the socks on magic loop, it is easier than using 4 double pointed needles. ( Magic loop is super simple, don't be intimidated. )
Each week we will work on a different section of the sock, the cuff, the heel, the foot and the toe. If you want to work on both socks at the same time you may purchase two circular needles and have them both going at the same time, if you finish one during the week then you can pick up the second one and have both done in a month. 🙂 Unless you know how to do two at a time using magic loop, which we can show you how if you desire.
This workshop is open to anyone that knows how to knit, young and old. Come and learn the art of making socks. I still have my first pair of socks and have made many different types from toe up to top down, double pointed needles, magic loop, two circular needl es, two at a time toe up, and two at a time top down. There is nothing like a home made pair of socks!
The cost for this workshop for all four weeks is only $20 per person.
100 grams/230yds of DK weight yarn (size 3) in your favorite fiber and color, because these are top down it is recommended to get 2 skeins of yarn, if you find you have a skein left you can return it or make another pair of socks. With top down socks you do the foot last so if you make a longer leg you may not have enough to yarn to finish the foot so it is highly recommended to get 2. 🙂
Size US 4 (3.5mm) circular needles, 29″ if you are not sure what these are please call or ask for assistance at the store.
Sport weight yarn – (380 yards, 5.5 oz.) 1 skein –
You may not find a skein in the exact same size there fore you may have to purchase more than one skein to make up the correct yardage.
US Size #2 circular needle, 29″ if you are not sure what these are please call or ask for assistance at the store.
Please sign up below.
Views – 367