Students will be sewing zippered bags as they join Amber for this class.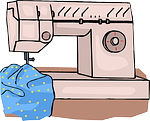 Amber has a sewing business locally and can be found on Etsy.
All material will be provided and the bag will be completed at the class.
Just bring your sewing machine and creativity.
This class is for those students that know how to operate a machine and have some light sewing experience.
Views – 252