Private School Protection with Homeschool Benefits
Guilford Christian Academy is a private school that allows the students to be taught in their own homes by their parents. Parents maintain control – we do not tell you how to do it, we help you do it right. Parents choose the curriculum they will use or design their own course(s), the courses are parent-directed and student-centered. We will supervise your course of study and give you guidance and support throughout your home education. We take care of dealing with the government so you do not have to. This allows the family to focus on education, not bureaucracy.
We have the authority and privileged to grant diplomas in the state of Maine, with that authority comes the responsibility for evaluating and issuing high school credits. Once we evaluate and document the validity of the work performed we will issue a real diploma, not a GED or certificate of completion.
We build an educational file for each student that contains student records, evaluations, external credits, transferred credits, and more. These records are confidential and will not be released without a signature from the parent, legal guardian, or adult student.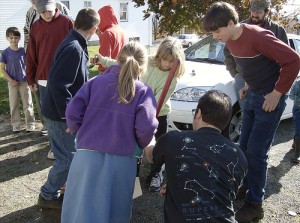 We offer…
support
record-keeping suggestions, tips, help
diplomas (We become the record holder and the transcript sender for post-high-school requests to colleges and universities.)
college preparation
transcripts
arrangements for college credits even for high school work
accelerated diploma options
reclaim and recover credits
And, with all of this, Guilford Christian Academy has built credibility and accountability for the important work you are doing.
lots of groundwork at the Statehouse to fight legislation that affects homeschoolers and recognized private school students.
Counseling
We do not require but do highly recommend becoming a member of HSLDA.
The law for Homeschooling in Maine.
GCA operates under the authority of Maine law. Guilford Christian Academy complies with the provisions of 20-A M.R.S.A. 5001 (a) which directs the Maine Department of Education to identify GCA as "a private school authorized by the department as providing equivalent instruction." (20-A MRSA §5001-A, sub-§1 (b). You can view the analysis of the law from HSLDA . Option 2 is simple, non-intrusive, and less work for the homeschooling family.
Expected Course of Study for GCA
In the primary grades it is expected by GCA that your commitment will be primarily on the fundamentals of academics, reading, writing, and arithmetic. You should also be incorporating the preliminary studies of history, science, and current events/social studies. This is taking into consideration that your primary responsibility is to raise your child in the fear and admonition of the Lord.
Once your child reaches those intermediate years that the government schools call Jr. High, and on into High School your focus should shift to advanced studies. Including more in depths look at math, science, and literature and their research into social/political and economic policies and views that shape the way this world works.
The government's requirements may change over the years and we must be diligent in staying in compliance, however, our goal should always surpass any that the government lays out for us.