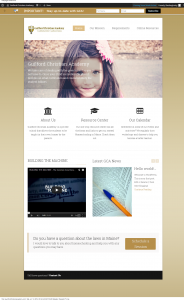 The Guilford Christian Academy website just underwent a major upgrade to provide you the very latest technology for a more secure and smoother user experience.
Our new fast-loading theme will provide you the information your looking for very quickly.Compatible with all the latest browsers, such as Chrome, Safari, Mozilla,Opera, and even in IE8!
The theme is mobile responsive is officially built to be available on any device, whether tablet, phablet, phones of any kind.
Even a new logo!
Click here for more information on all of the changes that have been provided by the team at Revere-Media! We know you'll appreciate all of their hard work in taking on the task to provide our members, staff and visitors a safe and unique browsing experience.
If you are looking for Web Development, Graphic Design, Branding, Marketing, SEO, or any number of online services, we strongly recommend reaching out to Revere-Media for a free consultation. They provide online ingenuity that deliver real world results! You can visit their website at www.Revere-Media.com or give them a call anytime at (207) 922-3280.