Many are preparing for the new school year. Some are stressing about it and some are at ease with it. It doesn't necessarily come with time but more with confidence of knowing what you are doing for your children is the best thing you could do. Is the child going to like the curriculum? Do I need all this curriculum? Where am I going to get the money for the curriculum? Is this curriculum going to cover everything that is needed? There are many questions that come to mind when I think of this topic.
As a veteran homeschooler I struggled with this for several years after we decide to home educate our three children. I purchased a "canned curriculum" (a curriculum that is all chosen for you by grade, you purchase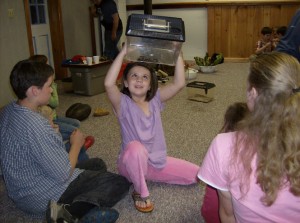 everything for that grade and get a discount price ) for our middle child to start first grade with. We tried to do everything that there was to do and we burned out fast, I felt like we were not doing it right, it took us all day to complete the studies and my student started to dislike "school". It just didn't seem right to be working 6-8 hours a day with a first grader.
As time went on we realized that there is really only an hour to an hour and a half that the students in the government schools were actually doing academics. The rest of the time is spent going from class to class, getting the class settled, handing out papers, oh and don't forget the assemblies. 🙂 There is recess and lunch as well. Times when the teacher has to deal with a crisis and much more.
So, when it comes to choosing your curriculum remember that learning does not have to be all books, there are those that do not use but one or two books to teach. The rest is life and hands on learning. Getting outside and exploring the world and grabbing the insect identification book from the local library or you book shelf and finding the name of that really cool 3″ bug with large pincer looking things, Ewww. The same with flowers or trees, birds and animal tracks (you can get an identification poster free from the Inland Fisheries and Wildlife).
We found the best learning comes from doing. We found that our children would remember more if we let them touch, taste, see, things around them and then sit down and discuss or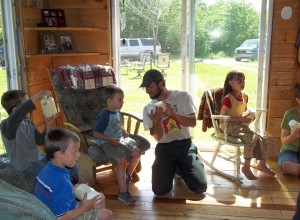 look up what it was we were touching, tasting, seeing. This may not work for all students for every subject but you get the idea.
To wrap this up, do not stress about your curriculum, use what works and think out of the box, it does not have to be expensive, magnetic letters and numbers purchased at a yard sale are awesome, the teens love them, I am always finding someones name or an expression written on the fridge left by someone that stopped by.
Oh and by the way, the "canned curriculum" that we used, I sold off the last reader- untouched – about 3 years ago when my first grader graduated from high school. To think that we purchased it 10 to 11 years ago and never used it. I am thankful that we started enjoying life and relaxing about our children's education. Kids are just naturally going to learn, we as adults are still learning. Preparing for the New Year – relax, don't fret, you can do it and you will do it better than anyone else can do it for your children.
Happy Homeschooling.